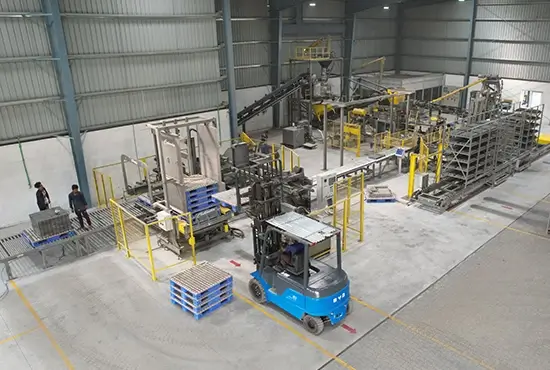 Sri Ganapathy Pavers
Leading Paver Block Manufacturers in the Industry
Sri Ganapathy Pavers has set a benchmarking quality standard and pattern collection range in all over India market. Our state-of-the-art manufacturing process shaped us to be the town's leading Interlock Paver Block Manufacturer. Since 2011, our pavement blocks have rooted their aesthetically fabricated blocks in the industrial and residential floors. We established our manufacturing facility at Tirupur,Tamilnadu to facilitate easier and faster fleet movement.
VIEW MORE
Why choose Ganapathy Pavers?

Durable

Faster Renovation

Weather Resistance

Extensive Collections

Eco-Friendly

Higher Endurance

Easy Maintenance

Anti-Skid

High Load Bearing Capacity
What our client says
Paver Block Collections
I made my first purchase of Paver Blocks. I'm very impressed with the pattern collections they manufacture. I decided that Sri Ganapathy Pavers would be my all-time vendor.
Value for Money
I'm a contractor, and I do many projects in Tamil Nadu. Sri Ganapathy Pavers offers cost-effective and economic paver blocks for the quantities I quoted. I'm very happy with the purchase.
Timely Delivery
One of my friends referred me to Sri Ganapathy Pavers. I quoted an instant requirement of ready-made compound walls. They delivered the precast wall to the site location as soon as they promised. I recommended my known networks to choose Sri Ganapathy Pavers.
Outdoor Pavement Solution
We were planning to construct our manufacturing facility outdoor pavement with paver blocks. Our engineer referred us to procure from Sri Ganapathy Pavers, the paver block manufacturers. We were highly satisfied with the quality they offer. Until now, we did not do any maintenance work, though heavy vehicles are in frequent transit.
Aesthetical Value
When we approached Sri Ganapathy Pavers- Paver Blocks Manufacturers in Coimbatore, we were so happy to come across various collections of pavement blocks with unique colours. We decided that we procured at the right place. After installation, it enhanced our gated community's outdoor aesthetics. I strongly recommend you choose Sri Ganapathy Pavers.
Quicker Installation
I have much experience in the construction industry. I procured Readymade Compound Wall from Sri Ganapathy Pavers, the Precast Wall Manufacturer, for the first time. To our surprise, our company workforce constructed the boundary wall in a very short time. Each wall is precisely made. Thanks to Sri Ganapathy Pavers.